FarbNoMore Historical Clothiers
|
home




Confederate Uniforms

WE ARE NOW TAKING ORDERS AGAIN FOR CONFEDERATE JACKETS!!!!!
This is a quick list of our uniforms and equipment.
All uniforms are made of correct material, thread, and buttons. They are also made of the correct construction.
Yes! ALL button holes are hand sewn.

Mystery Depot Jacket
All top stitching is hand sewn. Just check out the many pictures for details.
$185.00
Click here for numerous pictures of this jacket.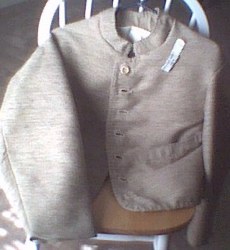 The original is pictured in Echoes of Glory pg. 141.
Department of Alabama Jacket
$165.50
*Single row of hand sewn topstitching.
Echoes of Glory pg. 140
For the Dept.of Alabama jacket that has two rows of stitching, add $20.00. See the picture in Echoes of Glory.