FarbNoMore Historical Clothiers
|
home




FarbNoMore Shirts by Scott Cone

These shirts are crafted by Scott Cone. He has great work, which is acceptable by FarbNoMore. He is a great addition to the FarbNoMore Crew, as we are trying to do our best to serve this c/p/h community with quality clothing.
Every detail is done on this shirt. Each and every seam is hand felled, in addition to the rest of the shirt being hand sewn as well. A shirt of this quality is a must. They are crafted with Family Heirloom cotton shirting materials. The cost for these is $90.00. Please scroll down to see more information about these shirts.
Hopefully these shirts will be easily available through the in-stock page, but at this time there are not any available. Check back soon though. Or place an order for your very own FarbNoMore Shirt by Scott Cone.
Email here.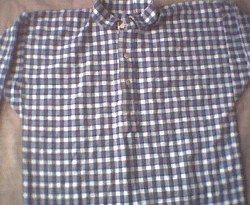 Scott Cone uses;
Charlie Childs'
Hollyday Shirt Pattern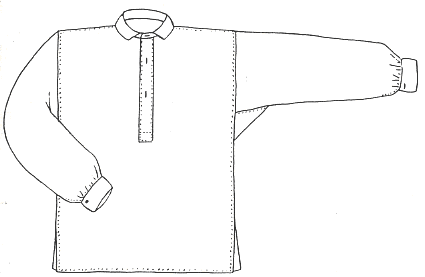 The Hollyday Shirt is 100% hand sewn from the Charlie Childs' "Hollyday shirt pattern," using choice fabric from local suppliers. At times, we have people send us some of their own material to make them a shirt. If you choose to do this, we will subtract the amount of our material from the total cost.